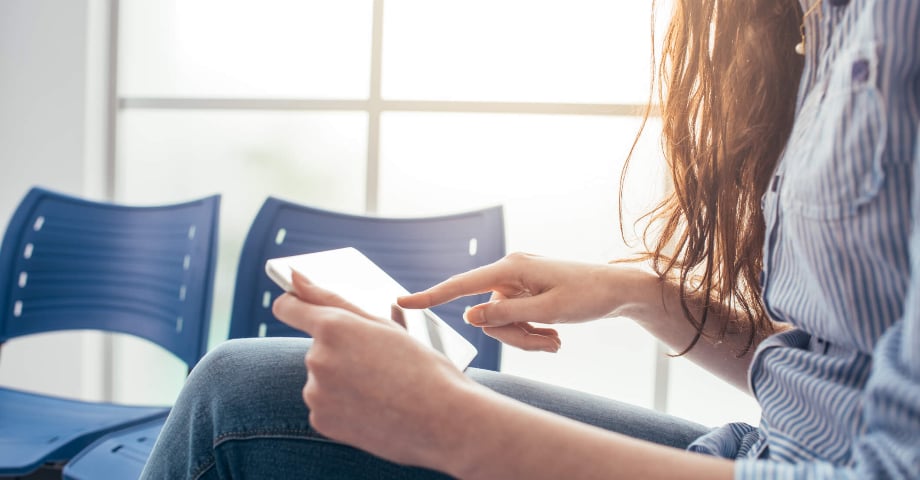 The patient intake process can be quite cumbersome and can cause headaches for your already-strained ancillary medical staff and patients. Paper forms are slow, prone to error, and simply outdated. These days, it seems like nearly everything is going digital—why shouldn't your patient intake process follow suit?
Plus, amid the COVID-19 pandemic, the last thing your patients want to do is sit in a waiting room filling out paperwork with a pen and clipboard that could be covered in germs. Fortunately, digitizing your patient intake process can help mitigate many of these challenges while offering several additional benefits for patients, practices, and providers.
Let's talk about why it's time to digitize your patient intake process.
Why should practices digitize the patient intake process?
Wondering why healthcare practices should digitize their patient intake processes? While manual, paper-based patient intake creates inefficiencies, presents administrative hassles, and leads to inaccuracies, digitization has numerous benefits.
By digitizing your practice's patient intake process, you can:
1. Increase Patient Satisfaction
Patient satisfaction is a top priority for nearly every healthcare practice. When patients are satisfied with their experience, they're more likely to be loyal, adherent, engaged, and involved in their own care decisions.
That said, patient satisfaction can take a real hit when wait times are longer than ideal. In fact, up to 30 percent of patients say they've left a physician's office before being seen due to long wait times, and 20 percent would consider switching providers due to a long wait. The strong correlation between patient satisfaction and time spent in the waiting room presents a clear opportunity to reduce wait times.
That's where digital patient intake comes in. By digitizing the patient intake process, healthcare practices can offer a better care experience as a whole, where patients can complete digital forms for their appointment ahead of time and eliminate the waiting room altogether with mobile check-in—exactly the modern conveniences today's healthcare consumers and patients are looking for from their providers.
2. Boost Practice Efficiency
Seventy-eight percent of healthcare quality experts say improved clinical workflows and efficiency are the keys to improving quality—but how can you do it with so much to accomplish on a daily basis? Digitizing patient intake at your practice means no more tedious, manual workflows such as copying forms, fussing with clipboards, and scanning completed paperwork.
On top of that, a premium intake solution is workflow-configured and delivers discrete data, as well as updates, directly to a practice's electronic health record (EHR) and practice management systems. Some intake solutions merely turn data into PDFs that require manual data entry. And ideally, an intake solution links to other engagement aspects a practice offers, so patients can, for example, register for a portal while completing forms.
3. Improve Practice Management
You want your practice to function in the most organized, efficient way possible, but making that happen means finding ways to improve your operations. However, outdated patient intake processes and solutions can get in the way, preventing healthcare practices from running as smoothly as possible.
Smoother practice management comes with many of its own benefits, from improved patient and staff satisfaction to increased revenue and retention. In addition to simplifying practice workflows, digitization can also help to reduce the number of late or missed payments by automating the collection of payments through your intake process.
4. Mitigate Data Entry Errors
The transcription process, in particular, is messy and time-consuming—not to mention prone to error. Research shows that 61 percent of claim denials are due to simple demographic or technical errors, often as a result of human error caused by messy handwriting and/or typos leading to inaccurate data entry.
Digital patient intake forms allow less room for data input errors caused by manual administrative work. With digitizing intake forms comes improved accuracy and a cleaner patient database. Better data accuracy also allows practices to minimize potential patient safety concerns when health details are entered into medical records incorrectly.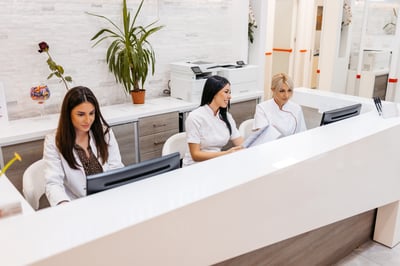 5. Enhance Patient Data Protection
Protected health information needs to be just that: protected. More than 41 million patient records were exposed by 572 security incidents in 2019 alone. With strict Health Insurance Portability and Accountability Act (HIPAA) privacy laws to follow and security breaches to watch out for, patient data protection is more important now than ever before.
Digitizing your intake forms and processes allows you to safeguard patient privacy and ensure compliance with HIPAA laws by choosing healthcare technology platforms that come with advanced, built-in security protection. This offers you and your patients peace of mind and minimizes the risk of losing important, confidential data.
6. Reduce Staff Burnout
Physician and practice staff burnout is a significant challenge in healthcare today. Approximately half of all U.S. healthcare workers—including everyone from physicians and nurses to front office staff and practice managers—are burned out on the job, and many felt this way even before the COVID-19 pandemic.
Excessive administrative work and manual EHR maintenance are two of the biggest factors contributing to burnout, which can ultimately result in reduced productivity, higher staff turnover, and decreased patient satisfaction.
Digitizing your patient intake processes can help simplify workflows, minimizing the administrative burden for office staff and reducing cases of healthcare burnout. Patients can simply fill out digital forms electronically at their own convenience, after which their data will sync immediately with your EHR, freeing staff from manual data entry.
7. Decrease Overhead Expenses
Inefficient, paper-based processes can significantly increase overhead expenses for healthcare practices. At least 3 percent of annual practice revenue is spent on paper, which doesn't even include other small costs that can add up over time, such as ink, printer maintenance, clipboards, and pens—not to mention the cost of lost time.
The good news is that you can decrease your practice's overhead costs associated with patient registration and intake by going digital. Electronic patient intake forms reduce expenses and help save practices from wasting valuable time, money, and resources.
Experience the benefits of a digital patient intake process.
Embracing digital patient intake is a no-brainer due to the benefits alone. By digitizing paper forms, you can streamline patient processing, eliminate waiting room backlogs, cut unnecessary overhead costs, minimize data entry errors, and reduce staff workload stresses and burnout caused by inefficient processes and repetitive tasks.
Addressing these challenges frees up providers to focus on other, more meaningful patient engagement opportunities, improving the care experience for patients, practices, and providers alike. At least 60 percent of practices report that their digital patient intake solution helps their practice be more efficient, focus better on the patient experience, and eliminate some of the overhead associated with patient check-in—but you need the right patient intake technology in place to make it happen
InteliChart's Patient Intake solution streamlines the entire check-in process, addressing common pain points and introducing numerous benefits for practices. Additionally, the full, integrated Healthy Outcomes patient engagement platform offers healthcare consumers a convenient, mobile-friendly way to access the services they need before, during, and between office visits while also offering healthcare practices the technology necessary to deliver a better, more modern patient experience.
Ready to take the next step to begin simplifying workflows and transforming your practice's patient intake process? Request a demo to see InteliChart's patient intake solution (and full patient engagement platform) in action.
This article was originally published in July 2020 and was updated and republished in June 2022.