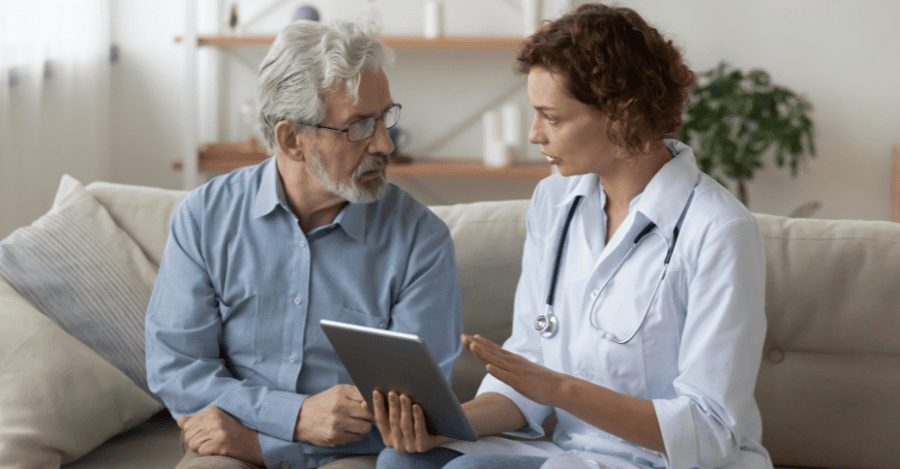 The rise of healthcare consumerism and emerging technologies has prompted many practices to streamline and reimagine the patient intake process. With an abundance of digital tools at our disposal, gone are the days of filling out paper forms and manually entering data—at least for most healthcare practices.
Learn how InteliChart streamlines the patient intake process for practices, patients, and providers alike.
What are the most common patient intake pain points?
We've all been there: You sit in the waiting room of your doctor's office and fill out countless forms with a clipboard and pen. Then, practice staff members must manually input your data to digitize it. You can see how this approach is less-than-ideal—and why it creates a lot of frustration for practices today.
Common pain points associated with the traditional patient intake process are:
Practice Staff Burnout
Slow, outdated patient intake processes create operational inefficiencies, increasing the workload and both practice staff and physician burnout. The patient intake stage is often the most tedious, labor-intensive step, and using manual, paper-based processes only contributes to the administrative burden for healthcare practices.
Waiting Room Backlogs
Nobody likes a long wait. Paper-based forms lead to delays and backlogs that make it difficult for staff to work efficiently and offer a great patient experience. Waiting room backlogs can ultimately lead to increased patient churn; research shows that at least 20 percent of healthcare consumers would switch providers due to a long wait time.
Inaccurate Patient Details
Manual, redundant data entry can lead to inaccurate patient details, missing or duplicate information, and other errors—all of which introduce patient safety concerns. For example, if a patient's information is entered into the electronic health record (EHR) incorrectly, they may be prescribed the wrong medication. Plus, inaccurate information can result in rejected insurance claims and ultimately delay payment to your practice.
Patient Privacy Concerns
As patients push to increase their access to medical records, data privacy concerns are becoming more and more significant. Paper forms that contain sensitive, private patient data are unsecured in nature, which can increase the risk of potential HIPAA violations.
Unpaid Medical Bills
Failing to verify insurance coverage as part of the patient intake stage can result in rejected claims and unpaid medical bills. Ineligibility can ultimately lead to surprise medical bills (and increased dissatisfaction) for patients with high out-of-pocket costs. In fact, this problem has become so prominent that U.S. Centers for Medicare & Medicaid Services (CMS) have even introduced new legislation to end surprise medical bills.
Patient Dissatisfaction
Outdated processes that fail to meet modern healthcare consumers' expectations can result in dissatisfied patients and increased churn. Higher levels of patient dissatisfaction can also damage your practice's reputation and hinder efforts to attract new patients and grow your business over time.
How does InteliChart streamline the patient intake process?
Digitizing the patient intake process is the best way to streamline this stage of the patient journey. Armed with InteliChart's Patient Intake solution to digitize forms and automate patient processing workflows, practices can enjoy numerous benefits, such as:
Increased Practice Efficiency
By embracing digital forms, your practice can streamline patient processing and eliminate waiting room backlogs. Eliminating manual, redundant data entry increases efficiencies, simplifies workflows, and reduces staff workload stress associated with cumbersome patient intake processes and repetitive tasks. The result is fewer instances of staff burnout and more time to focus on offering a great patient experience.
Increased Patient Satisfaction
With increased efficiency comes increased satisfaction. Patients can spend less time in your waiting room and enjoy a smooth, modern intake process that meets consumer expectations. Filling out digital forms in advance is also more convenient for patients, who can start their forms and even pick up where they left off if they don't complete them—whether at home or in the office waiting room.
Enhanced Data Protection
Digital patient data collection is far more discrete and includes automatic updates to your EHR and practice management systems to ensure protected health information is secure. Patients can enjoy their right to privacy, while you can rest assured that your healthcare practice is HIPAA compliant.
Increased Patient Payments
Automating verification of insurance eligibility is not only more efficient for practice staff but also avoids nonpayments due to rejected claims. With fewer surprise medical bills and greater cost transparency, patients are also more likely to be satisfied with their care experience—and it's great for maintaining a steady practice cash flow as well!
If you think your practice could benefit from digitizing and automating your patient intake process, InteliChart's Patient Intake may be the perfect solution. Schedule a demo for a firsthand look at Patient Intake as well as the other solutions in our comprehensive patient engagement platform.