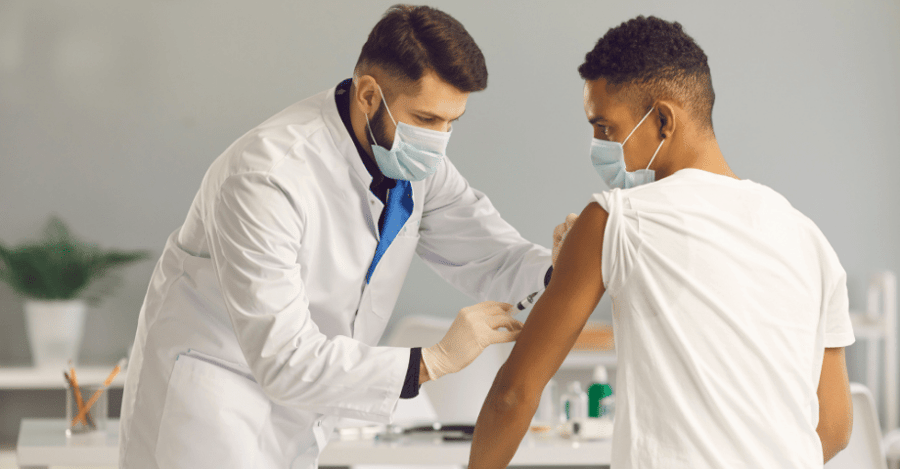 COVID-19 vaccine booster shots are dominating current headlines and conversations. People across the country and around the world continue to be faced with the decision of whether or not to get boosted—and unfortunately, vaccine hesitancy is still a very prominent challenge.
There are countless factors for a person to consider when making the decision, especially with several COVID-19 vaccination options that each have different dosage and booster parameters. These considerations introduce many questions for patients, such as: Who is eligible for a booster shot? When is the right time to get boosted? What are the risks of getting a booster shot? Do boosters include the same ingredients as existing vaccines? Which booster is the best fit for each person, and what are the mix-and-match criteria?
As people look for answers to these questions and weigh their options, healthcare practices and providers seek ways to maximize booster adoption. Learn how to maximize COVID-19 booster adoption using InteliChart's patient engagement platform:
The Role Practices & Providers Play in Encouraging Vaccine Boosters
About 91.8 million (42.9 percent) of the nearly 214 million people who are fully vaccinated in the U.S. have received a COVID-19 booster shot. With an opportunity to increase the booster vaccination rate, healthcare practices and providers are rising to the challenge, encouraging patients to get boosted—but of course not all efforts are equally effective.
There are several negative implications if we can't increase the number of patients who get vaccine boosters. For example, if fewer people get booster shots than existing vaccines, we could see a drastic rise in COVID-19 cases in our communities. Rising COVID-19 cases can ultimately lead to more hospitalizations, overwhelmed health systems, higher healthcare costs, adverse events, and even increased mortality.
Maximizing Vaccine Booster Adoption with Patient Engagement Tools
Many of the tools in InteliChart's patient engagement platform can help maximize COVID-19 booster adoption. Using InteliChart's solutions, you can more effectively:
1. Identify which patients to target.
Strong patient-provider communication is critical for maximizing vaccine booster adoption. Proactive education on COVID-19 vaccine booster shots is the best way for providers to encourage patients to get boosted—but the first step is determining which patients to target for interventions.
Practices can use InteliChart's Patient Activate solution to identify eligible patients who are not yet boosted. Then, they can prioritize high-risk groups, such as elderly patients and those with chronic conditions, and implement patient-specific outreach to educate patients on the benefits associated with getting the booster. Communications can easily be automated and delivered via each patient's preferred contact method.
2. Simplify the scheduling process.
A barrier-free appointment scheduling process for vaccine boosters is beneficial for providers and patients alike. Healthcare practice staff receive fewer scheduling phone calls, and patients gain flexibility to schedule a vaccine booster shot at their own convenience with no apps to download or accounts to set up.
InteliChart's Patient Schedule solution offers just that: Patients can book, change, and cancel booster appointments on their own time, which simplifies the scheduling process to encourage modern healthcare consumers to get their vaccine booster shots.
3. Remind patients about boosters.
Even with a seamless, convenient scheduling process, patients may neglect to prioritize their vaccine booster appointments and end up forgetting them completely. That's why appointment reminders are essential for maximizing booster adoption.
InteliChart's Patient Notify solution can be used to remind patients about upcoming vaccine booster appointments via their preferred contact method, whether that's email, in-portal messaging, text messaging, or phone. As a result, practices can reduce no-show appointments without increasing staff workloads due to manual outreach.
4. Send vaccine booster surveys.
Gathering patient feedback is essential for modern healthcare practices. Sending automated surveys with InteliChart's Patient Survey solution is a great way for practices to take the pulse of patients and get a sense of how they're feeling about the vaccine. Providers can also foster trust by communicating with patients about the vaccine and opening the door to discuss potential concerns about getting boosted.
Providers can confirm which patients haven't received their booster shot and gain a better understanding of their primary reason for holding off. In the case of patients who recently received their booster shot, providers can assess patient satisfaction and collect patient reported outcomes. Either way, surveys are a useful tool that provide valuable insights for providers on COVID-19 vaccine booster adoption.
Using the Healthy Outcomes Platform to Boost Vaccine Booster Rates
These are just a few of many ways that InteliChart can help practices and providers maximize COVID-19 vaccine booster adoption in their communities. InteliChart's Healthy Outcomes platform offers numerous patient engagement tools and delivers countless benefits for healthcare practices today.
See it for yourself!. Request a demo to get a firsthand look at the Healthy Outcomes patient engagement platform.