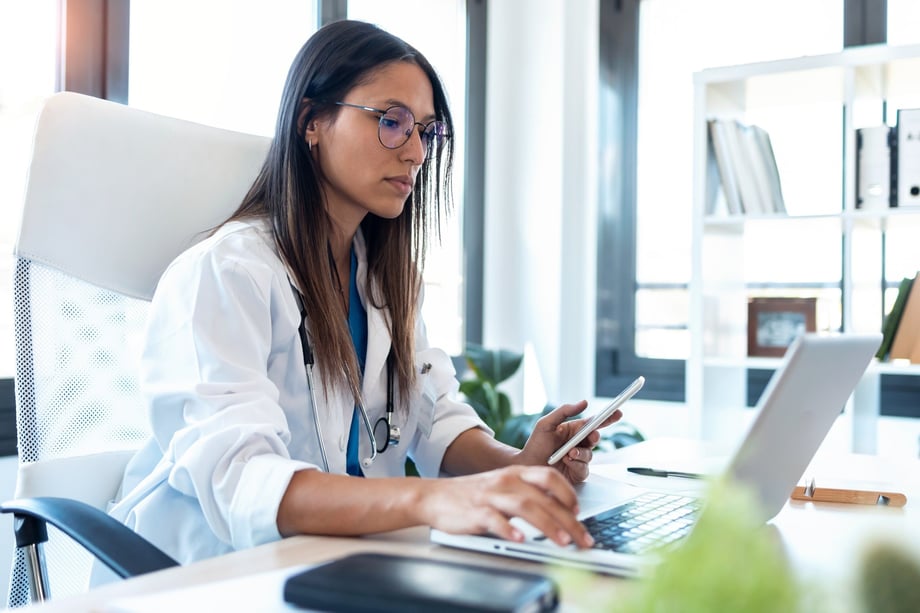 Patient access to healthcare is a significant industry-wide area of concern that many stakeholders are committed to improving. When patients cannot access providers, it's impossible for them to receive the care they need and deserve. The rise of retail health clinics is slowly improving patient access to healthcare, and it's simultaneously creating competition for traditional practices because these clinics offer more flexible hours and cost transparency.
Learn about the biggest patient access barriers, as well as what your practice can do to overcome them and keep up in a competitive industry.
3 Biggest Barriers to Improving Patient Access to Healthcare
To improve patient access to healthcare providers, practices must first identify the biggest barriers standing in their way.
Access to care is one of the social determinants of health (SDOH), which the Department of Health and Human Services defines as "the conditions in the environments where people are born, live, learn, work, play, worship, and age that affect a wide range of health, functioning, and quality-of-life outcomes and risks." These disparities are grouped into five categories:
Economic stability
Education access and quality
Healthcare access and quality
Neighborhood and built environment
Social and community context.
More and more healthcare practices are looking for ways to address the social determinants of health as they apply to healthcare settings, with the intention of improving patient access and achieving population health goals. A few of the biggest barriers that impede patient access to healthcare include:
1. Limited Office Hours
Healthcare practices usually operate during typical business hours, often closing for the day at 5 p.m. or 6 p.m. and providing limited or no weekend availability. This type of practice schedule can make it very difficult for people who consistently work during business hours to make an appointment to see their provider.
2. Geographic Location
Certain geographic areas are underserved—especially in more rural communities—with little to no nearby access to a healthcare provider. In fact, although one in five Americans lives in a rural area, fewer than 10 percent of physicians practice there. As a result, people in rural communities often suffer from common health problems due to their lack of care.
3. Financial Resources
It's not just about access to care—it's also about access to affordable care. Patients with financial difficulties are more likely to skip out on preventative care due to these constraints. In fact, three in 10 uninsured adults went without medical care due to cost in just 2019 alone. The rising cost of healthcare in the U.S. has made the care gap even wider, especially for Americans with high-deductible insurance plans.
Improving Patient Access to Healthcare with Technology
Your practice can implement strategies to overcome these barriers and enable patients access to healthcare when and where they need it.
Streamlined Scheduling
By streamlining manual processes and allowing patients to self-schedule their appointments, you can simplify your operations and free up time to accommodate more appointments each day. Plus, patients are more likely to make an appointment when they can do it online, on their preferred device, at a time that works well for them.
Virtual Care Alternatives
Telehealth has gained significant momentum over the past year, with adoption rapidly accelerating during the COVID-19 pandemic. Now, more and more practices are embracing virtual care as an alternative to in-person visits. Offering telehealth appointments can improve patient access in rural communities, as well as provide a better option for elderly patients with limited mobility and people without a reliable form of transportation.
Flexible Financial Options
Many practices are beginning to offer flexible payment plans to combat the high cost of care, improve the payment process, and make seeing a provider more feasible for certain patients. Be transparent with your patients about out-of-pocket costs early on, before the date of service, to ensure they're prepared for what to expect. Then, offer flexible financial options with different plans to pay balances over 6, 12, or even 24 months. This will help patients meet their financial obligations over time.
All of these solutions have one thing in common: They're all powered by patient engagement technology. With access to a platform of patient engagement tools, you can not only improve access to healthcare but also stay connected with your patients between in-office appointments—and achieve healthier outcomes in the process.