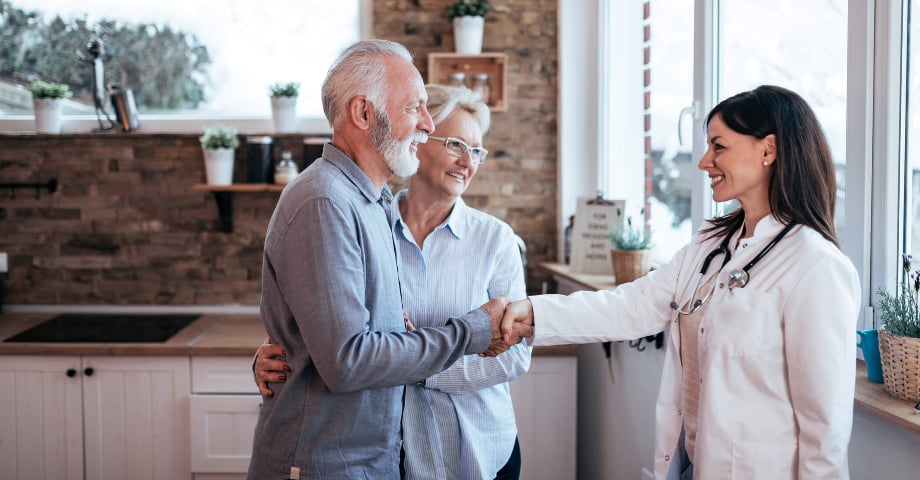 Patient engagement is an important focus area for providers as the shift towards healthcare consumerism continues to take hold. As patients today are consumed with more personal responsibility for healthcare costs, their desire to proactively manage their health has several implications for healthcare providers.
When a health issue arises, patients are more engaged and selective in choosing a provider. Not too dissimilar from Amazon-era comparison shopping, patients are shopping for providers online. Recent years have seen an increase in physician-rating websites that give patients a sense of the quality of care they would receive – quality being a top selection factor.
Patients are not only more selective when choosing a provider, but also when deciding to stick with that practice or hospital. Research shows that patients can and will switch providers should they feel devalued at any point throughout their experience.
While patient experience is vital, patient engagement extends beyond satisfaction levels. Engaged patients are more likely to adhere to care plans, further driving better outcomes. This means patient engagement not only helps providers succeed in the era of healthcare consumerism, but it also supports value-based care goals.
The patient-provider gap
A recent survey shows that payers and providers are dedicating between a quarter and a third of their investments to consumer engagement. While healthcare leaders see the value in patient engagement and they are willing to make significant investments to achieve it, many clinicians do not find their current approach effective.
On average, healthcare leaders believe just 34 percent of their patients are highly engaged. Patients too find engagement tactics lacking. Nearly three-quarters say they have had experiences that are worse or no better with providers and health plans over the past two years.4 This is likely due to a discrepancy between what providers think patients want, and what they actually desire.
Healthcare leaders noted the following as the three most effective patient engagement initiatives:
Increased clinician-patient time — 59 percent
Shared decision-making — 54 percent
Enhanced patient access to relevant services — 36 percent
These initiatives largely take place while the patient is in the hospital or practice. Though engagement during the visit is important, the patient experience both begins and continues outside the practice or hospital. Because of this, it should come as no surprise that patient priorities revolve around tools they can access at home. These include care alerts and self-scheduling applications.
Many providers today take a narrow view of patient engagement, looking more at one-off tactics or onsite services rather than a comprehensive engagement strategy. Patient engagement is an ongoing initiative that extends beyond the four walls of a practice or hospital. It extends even beyond the patient portal. Here are the top four ways to establish a successful engagement strategy.
1. Implement "engagement cycle management"
Patient engagement is an evolving process that should be monitored and adjusted regularly.
The best way for providers to track and adjust their strategy is based on a combination of health outcomes and patient satisfaction scores.
With an automated solution, providers can alleviate time spent manually creating and distributing patient surveys. A customizable, rules-based campaign can quantify the value of services by integrating patient surveys and patient-reported outcomes directly into the clinical workflow. An array of tools can also enable flexible weighting and scoring, depending on the organization's specific patient engagement goals.
Equipped with reporting and benchmarking at multiple levels (patient, provider and organizational), health systems can treat their patient engagement initiative fluidly and nimbly. Consider setting a regular "cycle" in which stakeholders can gather to review the data and course-correct if needed. Analytics can provide insight into which engagement efforts are succeeding, and what needs to be adjusted.
2. Get the most out of your patient portal
When providers think of patient engagement, they often think of a patient portal. While this is a necessary box to check (in part because the Center for Medicare and Medicaid (CMS's) protocol for meaningful use was tied to patient portal use), not all patient portals deliver the same high quality, user-friendly experience patients need and demand.
An ideal patient portal should include online scheduling, online payments, e-forms and patient care plans – while seamlessly integrating into the provider's electronic health record (EHR). In fact, some surveys show 82 percent of patients would select a doctor with online scheduling, even if it means selecting from fewer appointments options. An additional 66 percent of patients report they would trade the convenience of having a doctor nearby for the convenience of online scheduling.
Thanks to convenient online scheduling, reminders, and other engagement tools, an effective portal solution helps patients more proactively manage their health. For example, a study shows that patients plugged into an online portal are more likely to receive preventative tests and screenings. Nearly one in nine patients are more likely to receive colorectal cancer screenings, and a slightly higher rate applies for mammogram screenings. With better outcomes on the line, having the right patient portal in place is key.
3. Power patient engagement through population health (and vice versa)
Though often considered two separate initiatives, population health and patient engagement are intertwined. Healthcare providers are held accountable and measured on the outcome success of their patients, and high-risk populations are more important to manage than ever. Success is not only determined by outcomes within the organization, but also by the effectiveness of managing patients outside the visit.
Automating patient engagement empowers providers to allocate resources to those higher risk patients, while patients that respond to automated interventions are motivated to take the actions necessary to facilitate their healthcare goals.
By leveraging data trends around certain populations, providers can distribute targeted, actionable communications. This results in better outcomes for the individual – and the population at large.
4. Engage and be engaged through proactive communications
To engage patients, providers also must be engaged. This means keeping the lines of communication open and active – before, during and after treatment. Patients have embraced digital communications as a way to interact with providers outside of care visits. In fact, a survey showed 74 percent of patients with a chronic condition joined a patient portal in 2017, which resulted in 69 percent speaking with their healthcare provider more often. This willingness and desire to communicate online makes the opportunity for better patient engagement more accessible than ever.
Offering multiple modes of communication helps patients stay engaged, and it has the potential to elevate shared-decision making. A 2015 Surescripts survey found that 51 percent of patients would communicate with their doctors if they could do so via email or text, and 46 percent would feel more comfortable asking questions over those various media forms.
Communication is key, and patients have different preferences in how they like to interact with their healthcare provider. Using an assortment of phone calls, two-way texts, customized emails, postcards and letters, providers can also supplement their communications with automated messages and reminders, opening up more time for clinicians to spend with their patients.
Adopt a patient engage mentality
The healthcare industry is riding a wave of patient consumerism and value-based care. These combined trends make patient engagement a crucial endeavor. Health leaders are taking note, and while the industry has made significant strides in improving patient engagement, many organizations are still falling short.
It's time to think beyond the patient portal and embrace a comprehensive engagement strategy. A full suite of solutions can help providers elevate their patient engagement initiatives, and in turn, achieve better outcomes.
Learn more by scheduling a demo with InteliChart.