Health ownership is more than just nice to have—it's a must in healthcare today. By giving patients an active role and encouraging them to participate in their own healthcare, practices and providers can reduce care costs, improve health outcomes, and enhance patient satisfaction.
Let's discuss all things patient activation, including what it is, why it's important, how to measure it, and key strategies for driving improvements.
Defining and Measuring Patient Activation
First things first, what is patient activation?
Dr. Judith Hibbard and her colleagues from the University of Oregon define patient activation as an individual's willingness and ability to take independent actions to manage their healthcare. In other words, activated patients have the skills, knowledge, and confidence to manage—or at least become actively involved in the management of—their own healthcare.

Dr. Hibbard and her colleagues developed this definition in 2004 and established a tool, The Patient Activation Measure (PAM), that effectively measures patient activation and predicts a broad range of health-related behaviors and outcomes.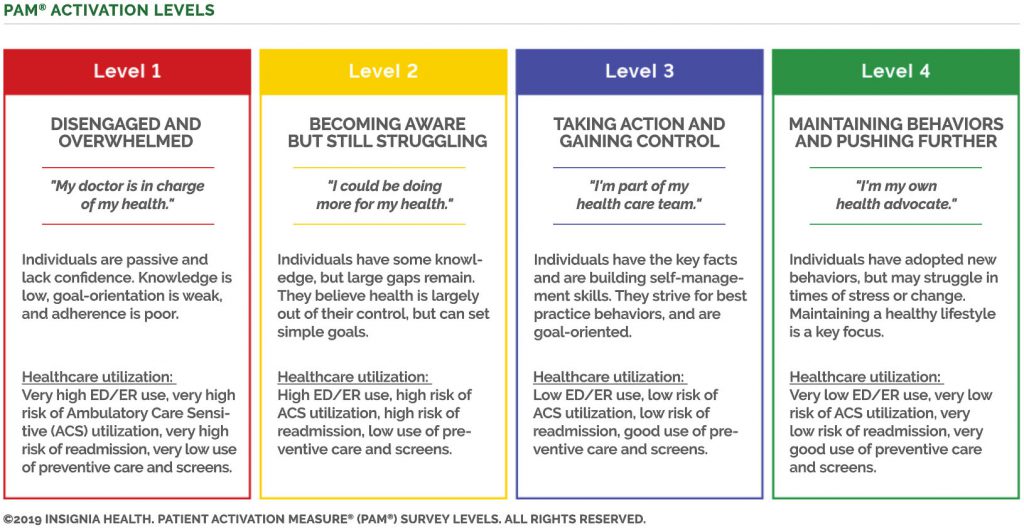 The Patient Activation Measure (PAM)
The PAM is a 10- or 13-item survey that assesses a person's underlying knowledge, skills, and confidence integral to managing their own health and healthcare. The PAM survey tool asks patients a series of questions in four areas:
Prevention
Unhealthy behaviors
Clinical indicators
Utilization of services.
The resulting predictions are very meaningful: By assessing a patient's activation level, PAM can reliably predict potentially negative consequences and health outcomes, such as a person's future emergency department visits, hospital admissions and readmissions, medication adherence, and more.
Here's how Dr. Hibbard spoke about the PAM: "Our research—starting in the early 2000s—came about because we saw that some people are passive and some are very proactive about their health. If we could measure that, then we could better understand patients and provide more tailored support to them to help them move forward."
Why Patient Activation Is Essential Today
Patient activation is a vital component of modern healthcare consumerism—but why?
Engaged, activated patients tend to make healthier, more informed decisions regarding their health. They are more likely to adhere to medications and care plans and to become active participants in driving their own healthcare.
For example, highly activated patients are two or more times as likely as those with low activation levels to prepare questions for a visit to the doctor, to know about treatment guidelines for their condition, and to seek out health information, including comparisons of the quality of health care providers.
But that's not all: More highly activated healthcare patients are also significantly more likely to engage in healthy behaviors, such as eating a nutritious diet and getting regular exercise. Moreover, those who score higher on the PAM are more likely to avoid any negative, health-damaging behaviors, such as smoking and illegal drug use.
Plus, multiple studies have demonstrated that people who score higher on the PAM are significantly more likely than people who score lower to engage in preventive behavior, such as having regular checkups, screenings, and immunizations. Alternatively, less activated patients are three times as likely to have unmet medical needs and twice as likely to delay medical care.
4 Strategies to Improve Patient Activation
How can practices and providers go about encouraging patients to participate in their own healthcare so they take actions that lead to healthy outcomes?
In its research, Deloitte concluded that understanding consumer attitudes and preferences across the patient journey can be central to supporting healthy behaviors, achieving better outcomes, and improving the patient experience.
In other words, providers who understand their patients—and engage them accordingly—open the door to impacting their behavior. Once that door is open, providers need to guide patients to the information, resources, and tools they need to become active participants in their health.
Want to open the door to patient activation? Try these proven strategies:
1. Educate and engage patients in decision-making.
Patient education is vital when it comes to increasing engagement and activating patients. McKinsey & Company has found that giving patients accurate, meaningful, and accessible information is the first step to empowering their decision-making and enlisting them as partners in managing their health and care.
Providers can educate patients in a variety of ways. For example, they might use patient education strategies to inform patients about their health and wellness, navigate preventative services, prepare for upcoming procedures, understand and better manage chronic conditions, and more—from pre-visit to post-procedure and in-between.
2. Foster strong patient-provider communication.
Patient-provider communication plays an important role in patient activation. Effective communication is twofold; it should take place during and between office visits. By identifying opportunities to simplify provider workflows and improve efficiency, practices can free up time for providers to spend empathizing and engaging with patients.
Staying connected between visits is critical. Practices can send automated, targeted surveys to assess patient satisfaction, collect feedback, determine functional status, assess patient-reported outcomes, measure medication adherence, and more.
3. Intervene as necessary to support patient activation.
Providers can intervene by first Identifying the primary barriers to patient activation, such as limited health literacy, language and communication challenges, and social determinants of health. With a better idea of the obstacles in the way, providers can then deploy automated, targeted interventions that are personalized to each individual.
Reaching out to some patients via text message will likely be more successful than engaging them by phone, and vice versa. Tailoring interventions to align with unique needs, goals, and preferences only increases the likelihood of encouraging behavioral changes and empowering patients to be their own care advocates.
4. Offer patients the right modern tools and resources.
The next strategy to improve patient activation centers around patient engagement technology: Making the right modern tools and resources readily accessible can significantly enhance the patient experience while also decreasing practice staff workloads to minimize physician and staff burnout.
Take patient portals, for example. A robust patient portal allows patients to view essential information, such as office visit notes, lab results, and medications. Live appointment scheduling and the ability to send secure messages to care teams are also features of a portal that helps patients take ownership of their health.
Creating a Digital Hub for Engagement
InteliChart's Healthy Outcomes patient engagement platform gives patients the tools they need and want to take a more active role in their own healthcare. Our solutions for automated, targeted patient communication help providers effectively manage their patients and encourage behaviors that lead to better outcomes.
Patient Portal, one of the integrated solutions on our Healthy Outcomes platform, gives patients everything they need to manage their healthcare and the health of their entire family in one place. Patient Portal provides one convenient location for accessing all their medical records, upcoming appointments, healthcare finances, care teams, telehealth visits, and intake/registration forms.
Better yet, patients can easily access the portal through the mobile app or from their favorite web browser whenever and wherever it's convenient for them. Healthcare consumers love the flexibility and appreciate a quality digital experience that mirrors and supplements in-office operations.
In summary, establishing and maintaining consumer-patient engagement is important—but it's not the end goal. Giving patients the capability to understand their health and the means to actively participate in their care is the primary objective.
InteliChart makes it possible with a smart, consumer-friendly portal solution that patients like to use and return to regularly, with tools for engaging patients and staying connected to them throughout each stage of the care journey. Request a demo to see it for yourself.