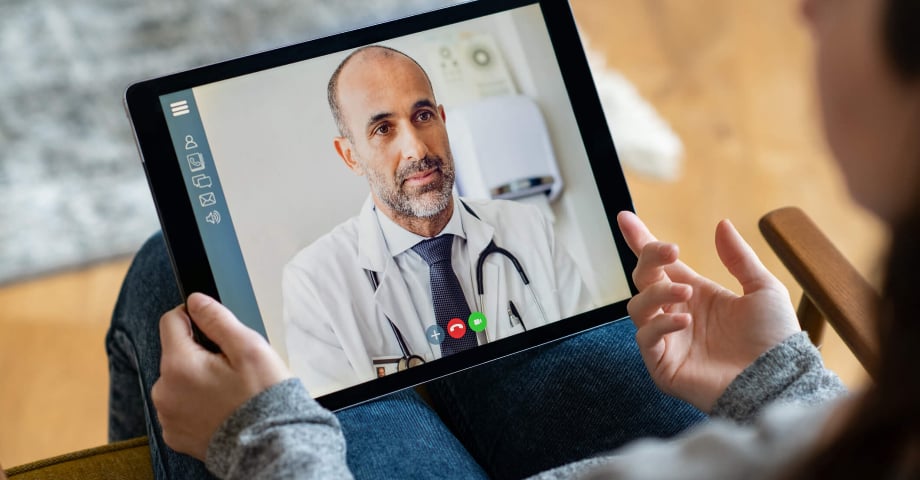 Healthcare consumerism continues to emerge as patients take more personal responsibility for managing their health and covering their medical costs. The National Center for Health Statistics estimates that nearly 40 percent of healthcare consumers are on high-deductible plans, which means patients are taking more money out of their own pockets to pay for medical expenses.
A recent study by Rice University points out that we live in a world where an individual's discretionary choices (food, clothing, and travel) are increasingly driven by convenience and the prevalence of mobile apps. These attitudes will only heighten with future generations, and it should come as no surprise that they greatly influence how people interact with the healthcare sector.
In this era of Amazon-comparison shopping and physician-rating websites, patients are not only selective when choosing a provider, but also when deciding to stick with that practice or hospital. Research shows that patients can, and will, switch providers should they feel devalued at any point throughout their experience, underscoring the importance of keeping patients engaged and satisfied.
Patient engagement extends beyond satisfaction levels, though. Engaged patients are more likely to adhere to care plans, further driving better outcomes.1 This means patient engagement not only helps providers succeed in an environment of healthcare consumerism, but it also supports value-based care goals.
The Healthcare Consumerism - Patient Engagement Connection
In their report Enabling Healthcare Consumerism, McKinsey & Company maintain that greater patient engagement can help providers acquire and retain patients, lower costs, and improve health outcomes. They claim that providers have an opportunity to cultivate an important source of competitive advantage by delivering in four areas:
Know

consumers and what drives their behaviors

Guide

consumers toward the information they need to make better decisions

Engage

consumers to help prepare them for and enable behavior change

Inspire

consumers to build loyalty
McKinsey also found an increasing number of consumers are:
Using digital healthcare tools

Interested in greater digital engagement

Willing to engage in solutions to reduce healthcare costs
An overwhelming majority of respondents made it clear that they want digital solutions at each step in https://www.intelichart.com/wp-admin/admin.php?page=wpcf7their healthcare journey. They perceived digital tools as often more effective than phone or in-person communication.
For example, 90% of those who had ordered prescriptions online thought that doing so was useful, and 91% of those who had online access to their electronic health information found that having such access was useful. Consumers indicate that the top two reasons they were interested in online appointment scheduling were convenience and time saved.
Consumerism in medicine has the potential to improve communication between patients and clinicians, resulting in better shared decision making. Providers have multiple opportunities to engage consumers, help them manage their care, and clarify how a patient's own actions contribute to their healthcare costs. By using digital tools for just-in-time, on-demand engagement providers can truly collaborate with consumers to change behaviors and improve public health.2
The Quadruple Aim
In 2008, the Institute for Healthcare Improvement (IHI) developed the "Triple Aim" as a means of optimizing health system performance. The Triple Aim is a framework to simultaneously accomplish three things: improve population health, improve the patient experience of care, and reduce per capita cost.
Some organizations have since added a fourth component to the Triple Aim: improving the work life of health care providers, clinicians and staff - provider well-being. The fourth aim supports the belief that "organizations who take better care of their people will develop a massive competitive advantage; happier, healthier providers deliver higher quality care with better patient satisfaction and are more engaged in their organizations."3
There's a correlation between high levels of staff engagement and high levels of patient engagement. Staff are much more likely to be enthusiastic and positive about securing the best outcomes for patients when they feel supported, empowered, and respected.
For too long, complex workflows and disparate systems have caused unnecessary hassles for providers in health systems across the country. With administrative burdens and taken off their already full plates, providers will be less stressed, and that will resonate in their interactions with other providers, staff, patients and families.4
Removing waste, improving efficiency, and standardizing innovations that build trusted relationships are key to achieving care team well-being and creating a healing environment that leads to improved outcomes.
Streamlining Complex Workflows
Technology that automates and simplifies a provider's complex workflow is critical to lifting the burden from healthcare workers. Consistent workflow is easier to track for gaps, easier to train, and less prone to erosion. Organizations should perform workflow gap analyses asking these questions: Is our workflow consistent from location to location and from staff to staff in the same role? Do we track and measure performance to understand where our obstacles are?
The three main workflow killers are:
Waste:

time wasted, resources wasted (paper, technology), lack of protocols to allow for parallel workflows,

lack of automation
Redundancy:

patients calling about the same issue more than once, multiple staff managing the same tasks,


lack of automation
Boredom:

tedious manual processes such as calling patients for appointment reminders, scheduling well visits, performing data entry from paper forms,

lack of automation
Solutions that give patients the digital tools they want and also reengineer office workflow can help providers:
Manage chronic-condition populations

Help care managers focus on the most complex patients

Reduce no-shows

Decrease readmission rates

Increase medicine and care adherence

Save time and resources

Achieve outstanding ROI
Embracing a Patient Engagement Strategy
The healthcare industry is riding a wave of patient consumerism and value-based care. These combined trends make patient engagement an essential endeavor. Health leaders are taking note, and while the industry has made significant strides in improving patient engagement, many organizations are still falling short.
Providers can meet this challenge with powerful technologies that streamline workflow and automate the communication that engages patients and builds their trust.
It's time to embrace a comprehensive patient engagement strategy - or, as McKinsey put it, to know, guide, engage, and inspire consumers. A full suite of solutions can help providers elevate their patient engagement initiatives, and in turn, achieve better outcomes.
1 http://journals.plos.org/plosone/article?id=10.1371/journal.pone.0179865#sec012
2 https://www.mckinsey.com/industries/healthcare-systems-and-services/our-insights/healthcare-consumerism-2018
3https://www.mihia.org/index.php/quad-aim/what-is-the-quad-aim
4https://www.beckershospitalreview.com/healthcare-information-technology/5-best-practices-to-achieve-the-quadruple-aim-and-prevent-physician-burnout-in-the-post-ehr-era.html