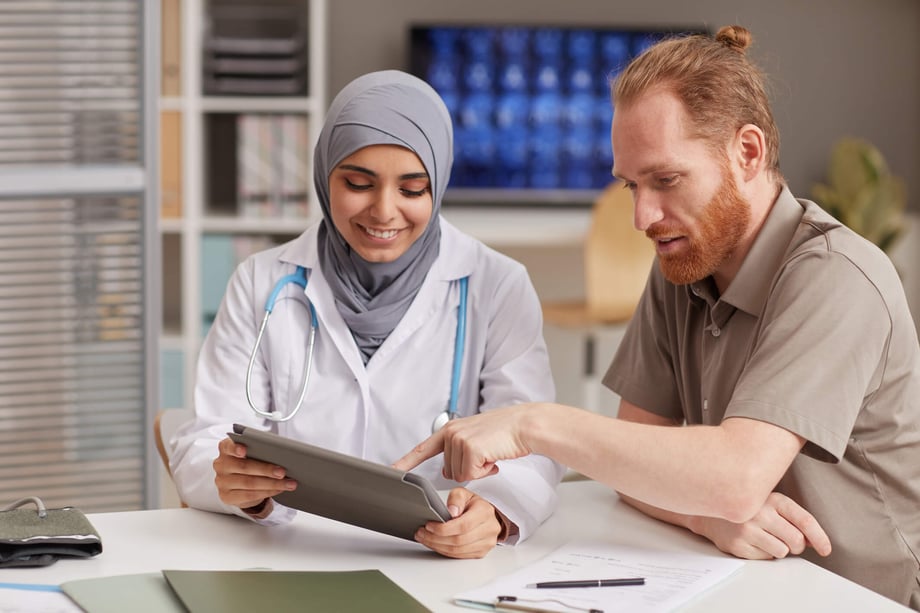 In today's complex healthcare environment, patient needs are changing all the time. Modern healthcare consumers not only want but expect seamless digital experiences from their providers. Amid evolving patient expectations and the rise in retail clinics offering more convenient care experiences in their communities, healthcare practices must seek out more creative ways to engage and empower their patients.
One highly effective option practices can explore is to enhance their existing electronic health record (EHR) with more comprehensive patient engagement tools. If you're an athenahealth practice, learn how you can make your EHR more patient-friendly.
Implications for Healthcare Practices Using athenahealth EHR
The athenaFlow EHR, formerly known as Centricity, is an established athenahealth solution used by many practices and providers today. EHRs like athenaFlow have historically been used to document clinical encounters and keep track of each patient's medical history. However, in recent years, EHR vendors have started offering built-in engagement tools to help providers meet their engagement goals.
The truth is EHR vendors are not experts in patient engagement, and cannot provide the same top-tier features and functions as a company solely focused on it.
Using subpar engagement tools can lead to disengaged patients, increased churn, and even poor health outcomes. To combat this issue, athenahealth offers a marketplace of third-party apps that can augment and enhance the EHR's capabilities. However, there are challenges to this approach as well. Different solutions from different vendors don't work well together natively, which can create a confusing experience for patients.
If you're an athenahealth practice struggling to engage your patients, you need an engagement platform recognized as a certified athenahealth partner in the Centricity Partner Program. That's Healthy Outcomes.
How to Achieve Effective Patient Management with the Right Technology
Hospitals, health systems, community health centers and physician practices have selected InteliChart as their trusted solution for patient engagement, collectively representing over 55 million patients. Healthy Outcomes is the most widely used engagement solution among leading EHR vendors and is the only unified platform in the marketplace that offers products developed to work seamlessly with one another, communicating effortlessly between applications to deliver a superior patient experience.
The Healthy Outcomes platform includes:
Patient Portal: Serves as a digital "front door" or hub for patient engagement
Family Portal: Enables caregivers to stay informed about their loved ones' health
Patient Schedule: Allows consumers to self-schedule appointments online
Patient Intake: Digitizes and automates patient registration and intake processes
Patient Notify: Automates patient communications like appointment reminders
Patient Survey: Delivers automated surveys on patient satisfaction and outcomes
Patient Activate: Defines and manages populations through outreach campaigns

This complete solution platform allows healthcare practices to maximize patient engagement capabilities, giving today's consumers what they want from their providers: convenience, anytime access, financial options, and value.
With just a single API integration between the athenaFlow EHR and Healthy Outcomes, you can offer your patients access to a wide array of advanced, consumer-friendly features designed to engage them throughout each stage of the healthcare journey—in other words, before, during, and between visits to your office.
InteliChart's comprehensive API drives quick and painless integrations for customers like The Oregon Clinic, ultimately helping to enhance the care experience for their patients and achieve long-term engagement goals. As a result of a Healthy Outcomes integration, practices receive high-demand engagement products from a vendor exclusively focused on meeting patients' needs.
"As an athenahealth partner, InteliChart is delighted to make our platform available to all athenaFlow and athenaPractice users. This development represents a significant upgrade for providers that have struggled to successfully engage their patients, or meet their needs as healthcare consumers, due to limited patient portals," said Gary Hamilton, InteliChart CEO. "We're excited to further our mission to transform the patient experience by partnering with athenahealth and enabling an enhanced patient engagement experience for all athenaFlow and athenaPractice providers."
Interested in adding on Healthy Outcomes to enhance your athenahealth EHR and take your patient engagement strategy to the next level? Request a demo of the Healthy Outcomes patient engagement solutions platform to get a firsthand look at the patient-friendly features, practice benefits, and overall impact for providers.