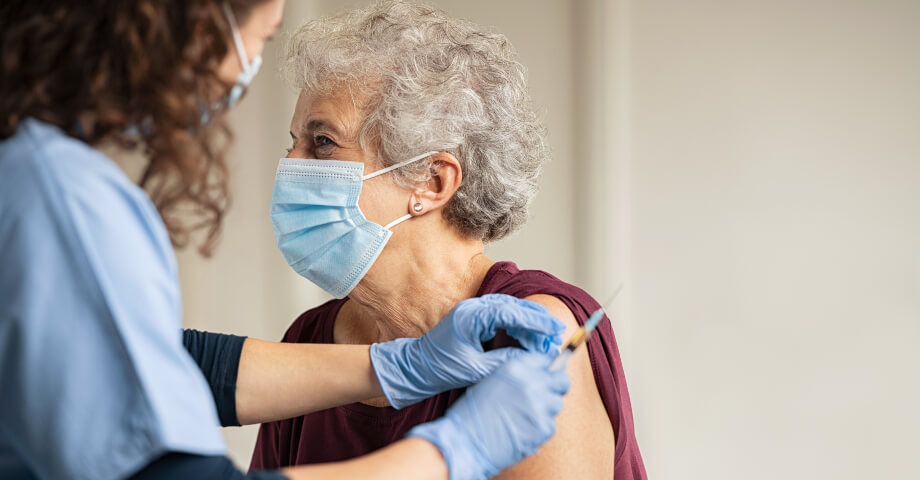 The recent release of the COVID-19 vaccine has offered a glimmer of hope to people fighting the virus all over the globe. However, recent research shows that more than 30 percent of the U.S. public does not intend to vaccinate against COVID-19.
Although vaccine hesitancy is certainly nothing new, addressing these concerns is particularly paramount to achieve the ultimate goal: herd immunity. Not surprisingly, safety and quality control are among the top concerns regarding the COVID-19 vaccine.
With that said, providers can have a tremendous impact when it comes to reducing vaccine hesitancy and increasing acceptance rates. By educating patients on the extensive clinical research required to bring the vaccine to market—all of which helps to ensure its safety and efficacy—and prioritizing outreach by the populations with the highest hesitancy, providers can quell concerns, address hesitations head on, and encourage patients to move forward with COVID-19 vaccination.
Here's how deploying strategic population health management initiatives can help reduce COVID-19 vaccine hesitancy:
We Have a Vaccine—Now What?
Now that the COVID-19 vaccine is available, you need a turnkey process to inform patients and simplify scheduling. However, because so many people are nervous and uncertain about the vaccine, making that happen is likely easier said than done. In fact, certain patient populations are reporting higher hesitancy towards taking the vaccine than others.
For example, research shows that groups including women, the politically conservative, and Black Americans are the groups most likely to refuse vaccination due to safety and effectiveness concerns. By recognizing which patient populations are most hesitant, as well as which patients are particularly vulnerable, providers can refine their strategic approach and outreach.
What steps can you take to reduce vaccine hesitancy? Despite widespread safety concerns, 82 percent of U.S. adults said they trusted their own doctors' recommendations regarding the COVID-19 vaccine. Using population health software like InteliChart's Patient Activate, healthcare practices can send targeted, personalized messages to high-risk and high-hesitancy groups and offer seamless self-scheduling processes.
Vaccinating Your Patients, Simplified
As you look to get the right patients vaccinated at the right time, you'll want to take the following steps.
Prioritize Your Patient Populations
It starts with prioritizing patients with the highest risk and/or hesitancy when it comes to the COVID-19 vaccine. Population health management tools automate the delivery of patient specific messaging designed to inform and motivate patients to take the appropriate actions for their health.
Vaccine programs are designed to identify specific patient populations based on eligibility criteria such as age, comorbidities, employment, or patients who need second shots.
When crafting targeted messages for the more hesitant groups such as female, conservative, or Black patients, remember to personalize your outreach as much as possible. For example, you can tailor your message to the individual by focusing your discussion on the benefits of getting the vaccine, sharing information regarding clinical trials, and correcting any misconceptions that may prevent certain patients from pursuing the vaccine, ultimately building trust and positioning yourself as the most trusted information source for the COVID-19 vaccine.
A solution like Patient Activate can automatically reach out to those patients via text messages, emails, phone calls, or portal notifications—whichever that specific group and individual prefers—with pertinent instructions and a unique link to make an appointment through InteliChart's Patient Schedule.
Offer Barrier-Free Scheduling
Barrier-free vaccine scheduling also plays an important role in reducing hesitancy and increasing acceptance. Using a convenient, online self-scheduling tool, patients can simply click the link and schedule their vaccine appointment with no need to login to a portal or download an app.
Plus, aligning with modern healthcare consumers' preferences for digital capabilities, patients can also make an appointment through your website, Google, or social media channels like Facebook or Yelp. Ultimately, the point is to reduce unwelcome barriers and make scheduling COVID-19 vaccines as readily available and convenient for patients as you can.
You can also keep your patients on track by ensuring those who got the first round of the COVID-19 vaccine will later receive an automated notification for their second round. Similar to the first round, your patients can then click the link in their Patient Activate message and once again self-schedule their appointment through Patient Schedule at their own convenience.
Streamline Internal Workflows
Now that you're incorporating a new vaccine and subsequent workflows into your day-to-day operations, you need the right tools to streamline those processes and enable your practice staff to work more efficiently. With standardized, simplified practice workflows in place, you can eliminate administrative hassles and work to vaccinate as many of your patient populations as possible.
Appointment self-scheduling using modern digital tools triggers form delivery, initiates the mobile check-in process, prompts appointment confirmation, and automates reminders for vaccine-eligible patients. Additionally, patients who are not currently eligible can then be sent a message that they'll be notified again when the timing is right.
That's it: A turnkey process with simple steps for keeping pace with the demand and vaccinating the right patients at the right time. Curious about tools that can help you solve the problem of vaccinating your patients across various populations? Request a demo of InteliChart's Healthy Outcomes solutions suite to learn more.