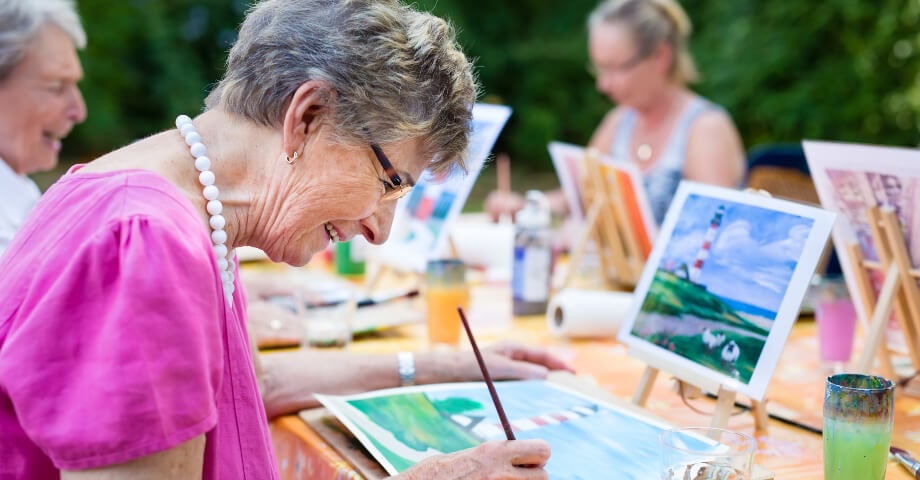 Engagement is both beneficial and essential for the 800,000+ U.S. residents in assisted living communities. Research has revealed a number of mental and physical health benefits for assisted living residents who engage in social activities, form strong interpersonal connections, and remain as actively involved as possible in their own care.
However, residents living in assisted living communities may struggle to stay engaged—especially now, as the COVID-19 pandemic keeps loved ones away. Let's discuss the importance of engagement for assisted living residents, as well as different activities you can use to boost it during the pandemic and beyond.
The Importance of Engagement for Assisted Living Residents
Taking steps to improve engagement for assisted living residents isn't only important for reaping the benefits of being highly engaged. Disengagement can have a significant negative impact on your residents' overall health and well-being, particularly amid the social isolation brought on by COVID-19.
Reduced social contact has been necessary to protect all of us—especially the most vulnerable populations—throughout the pandemic. Struggles with social isolation and loneliness have been particularly challenging for older adults. According to the National Institute on Aging, loneliness increases the risk for:
Depression
Anxiety
High blood pressure
Cognitive decline
Immunity weakness
Heart disease
Dementia
Stroke
Ultimately, death
On the other hand, highly engaged seniors tend to live longer, healthier, and more fulfilling lives. Studies show that social and physical activities for assisted living residents have the following positive effects:
Help them feel less isolated
Improve cognitive function
Reduce the risk of developing certain health problems
Lower the risk of mortality
8 Activities for Assisted Living Residents to Boost Engagement
Social distancing and isolation do not need to equate to loneliness, with the right approach. Here are eight different activities for assisted living residents that long-term care communities can proactively plan to boost engagement:
1. Have themed dinner parties.
Assisted living residents are basically family, neighbors, and roommates all wrapped up in one. Everyone has to eat, so why not break bread together?
Hosting themed dinner parties with different cuisines, decorations, and music can make an otherwise normal activity fun for seniors and instill a stronger sense of community. Plus, to keep everyone safe during COVID-19, you can still plan for this activity to be safe and socially distant.
2. Hold group exercise classes.
Physical activity is directly correlated with better cognition in older adults—even those with Alzheimer's and other forms of dementia. According to the Centers for Medicare and Medicaid (CMS), it also reduces the risk of falling and increases the chance of living longer. Plus, music therapy has also proven highly effective. Getting assisted living residents up, moving, and grooving (or even participating from a wheelchair) can improve engagement and contribute to better overall health and well-being.
3. Plan team scavenger hunts.
There's a reason why scavenger hunts are a popular team building activity—and the same logic applies here. Assisted living residents can feel bored and restless due to being cooped up and isolated, especially during this pandemic. The great thing about scavenger hunts is that they can be completely customized to suit your residents.
For example, you can have an "I Spy" style scavenger hunt that requires residents to stay seated and identify where items are located within the room. Or, you can actually hide items and encourage more mobile residents to search for them. There's really no right or wrong way to go about it, as long as it's fun and engaging!
4. Offer learning opportunities.
Residents in assisted living facilities can benefit greatly from continuing to learn new things. You can inspire lifelong learning by providing educational opportunities, such as:
Computer and technology classes
Onsite or virtual lectures
Continuing education courses
Art and music lessons
This is especially important for memory loss residents with diminishing cognitive function, because it keeps their brains active and stimulates them mentally—even when they can't leave the premises.
5. Plan arts and crafts activities.
Artistic activities are incredibly popular among assisted living communities, because they offer residents a chance to get crafty, express their creativity, and engage in something fun and interactive. Painting, coloring, scrapbooking, knitting, sewing, crocheting, and jewelry-making are just a few examples of arts and crafts that senior living residents might enjoy partaking in—and there are countless others!
6. Host movie and game nights.
Movie and game nights are a great way to easily break up long days for assisted living residents. Whether it's watching a new film, playing a board game, or putting together a puzzle, fun nights like this can boost engagement and give isolated seniors something to look forward to, especially during a time like this when they're likely cut off from seeing family as much as they normally would.
7. Schedule video conversations.
Even during the pandemic, you can still find creative ways for residents to interact with their family and friends. Help your residents schedule video chats using Zoom, FaceTime, Skype, or a similar technology. Many assisted living facilities have tablets available with these technologies already installed, allowing residents to connect with their loved ones regardless of their tech-savviness or the personal devices they own.
8. Get family members involved.
In addition to regular communication with loved ones, you can still keep your residents' family members involved to ensure proper care and monitor their physical and mental well-being. Modern patient engagement technologies like InteliChart's Healthy Outcomes platform offer Family Portal access to support remote involvement, which enables family members and caregivers to:
Track health progress
Review medical records
Monitor upcoming activities
Stay informed on their loved one's overall condition
Keeping assisted living residents happy and engaged is challenging for activity coordinators and other community staff members. However, planning any of these activities can make a huge difference when it comes to resident engagement—not to mention their health, well-being, and overall quality of life.