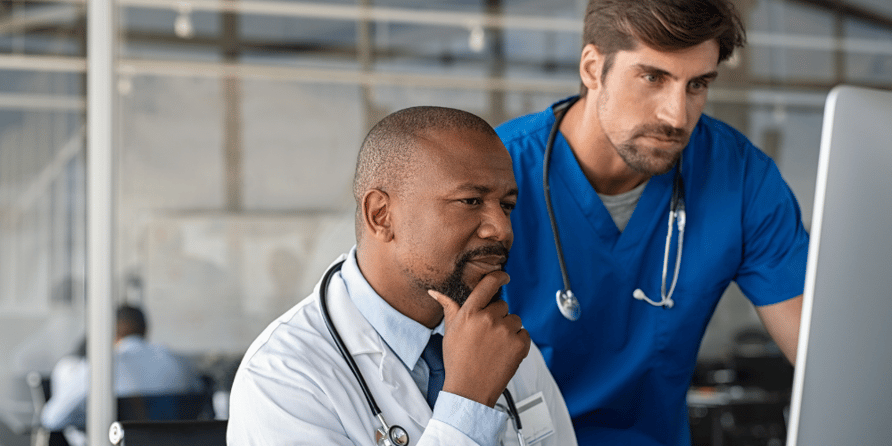 Clinician burnout is on the rise, and research shows that electronic health records (EHRs) aren't always to blame.
The COVID-19 pandemic has exacerbated already-existing burnout and compassion fatigue. And it isn't only clinicians who are experiencing burnout; in many cases, administrative staff members are also burned out on the job. In fact, the 2022 National Burnout Benchmarking report revealed that 28 percent of healthcare professionals are unhappy in their current roles.
Regardless of the reasons why, practice staff and clinician burnout can have serious repercussions ranging from mental health struggles, turnover, and exhaustion to lower patient satisfaction and decreased quality of care. That's why finding ways to combat burnout is essential in healthcare today.
Common Causes of Administrative Staff and Clinician Burnout
There are many contributing factors that can lead to administrative staff and clinician burnout, including:
Staffing Shortages
The healthcare industry has faced significant staffing shortages as of late, which leaves available clinical staff scrambling to get work done. According to the Association of American Medical Colleges, the U.S. faces a projected shortage of 37,800-124,000 doctors by 2034. What's more, the COVID-19 pandemic and the Great Resignation—which shows no signs of slowing down—have only made staffing shortages worse.
Administrative Burden
Administrative work places a significant burden on healthcare staff who are already busy and burned out. Navigating compliance requirements and managing appointments while also keeping a practice organized is easier said than done and can lead to a ton of wasted time, money, and resources—which naturally leads to more clinician burnout.
Inefficient Workflows
Manual, time-intensive processes have become the way of the past for many healthcare practices in large part due to automation capabilities. However, some practices still struggle with outdated technology and old-school workflows that create inefficiencies and often lead to duplicate work. Time-consuming tasks such as playing phone tag and resolving scheduling conflicts take away from patient care and increase burnout.
Tech Stack Management
Tech stack management also contributes to practice staff and clinician burnout—especially for those working with multiple vendors at one time. Managing multiple systems, integrations, and relationships can lead to vendor fatigue and increased burnout due to inefficient tech stack management.
Using Technology to Reduce Burnout
Fortunately, patient engagement technology can help to minimize clinician burnout. Here are a few ways to improve appointment management with patient engagement technology:
1. Offering Patients Self-Scheduling Tools
Offering patient self-scheduling is a great way to minimize practice staff and clinician burnout while also boosting engagement and satisfaction. Patients both want and expect their providers to offer a convenient way for them to schedule and manage appointments on their own time from their own devices.
In addition to giving healthcare consumers and patients the tools they're looking for, appointment self-scheduling minimizes burnout by drastically reducing the number of phone calls and emails for practice staff to respond to. This increases workflow efficiency and frees up staff to spend more time offering a great patient experience.
2. Automating Appointment Reminders
Automating appointment reminders is another excellent step practice managers can take to avoid practice staff and clinician burnout. Using automation for appointment reminders reduces manual phone calls—which saves a significant amount of time for practice staff—as well as no-show appointments, maximizing providers' schedules.
Additionally, patients love the ability to receive reminders via their preferred contact method, whether it be an automated call, text, or email. Catering to patient preferences improves the care experience while also making life easier for staff. It's a win-win!
3. Streamlining Patient Intake and Registration
Don't stop with scheduling; streamlining patient intake and registration workflows is also beneficial for patients and practice staff alike. Using patient engagement technology gives patients the option to easily fill out forms from the comfort of home. They can even start, pause, and pick up where they left off in the office.
Along with making the process easier and more convenient for patients, streamlining patient intake and registration workflows helps reduce waiting room backlogs and frees practice staff from manual data entry. Instead, seamless EHR integration syncs data in real time, improving data accuracy, patient safety, and practice efficiency.
Simplify Practice Workflows to Minimize Clinician Burnout
Burnout is undoubtedly a serious concern in healthcare—especially with factors such as COVID-19 and The Great Resignation. However, implementing modern, integrated engagement technology can help practices improve both staff and patient experiences, reducing workloads, minimizing clinician burnout, and improving workflow efficiency in the process.
Download, Industry Outlook Key Patient Engagement Trends to learn more about key patient engagement trends to watch for?