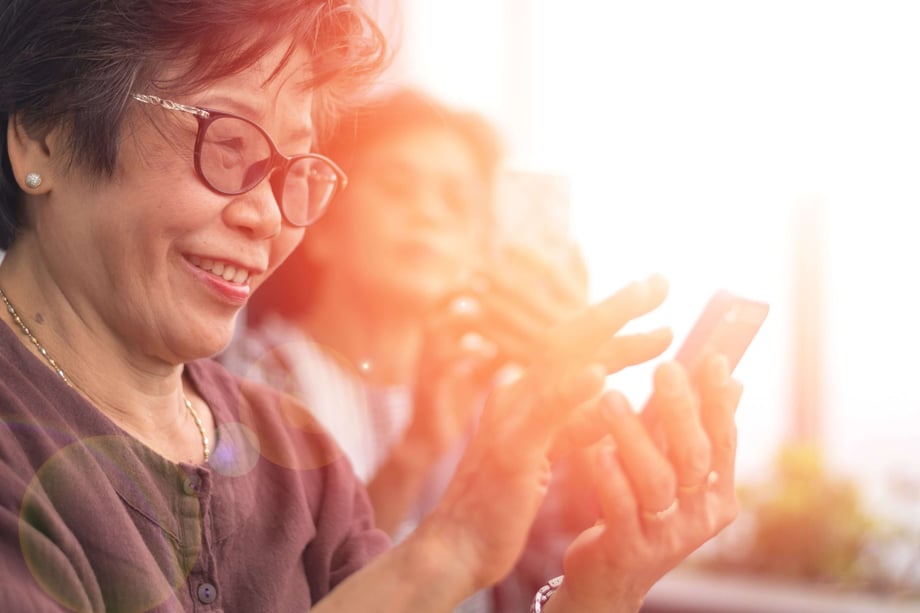 Patients today want to take a more active role in their own care. However, to do so, they need easy access to their providers and health records at their own convenience—not to mention to the digital tools they want and expect from healthcare practices today.
Recognizing this fundamental shift, an increasing number of healthcare practices are turning to patient engagement solutions to meet evolving consumer expectations and equip patients with the resources they need to feel engaged and empowered.
If you're looking for a technology partner to help you orchestrate engagement, you're on the right track. However, your choice in a patient engagement partner matters, and can ultimately make or break your practice's success. That's why it's important to define your goals, learn all your options, ask the right questions, and ultimately make the best possible decision for your business when choosing an engagement solution.
Keep reading to learn why InteliChart's Healthy Outcomes patient engagement platform is the right choice for your practice.
Access to a Full Platform of Patient Engagement Solutions
Engaging patients with a touch point in each stage of the healthcare journey enhances the patient experience, increases satisfaction and loyalty, and improves outcomes. However to do that, you need access to a full, unified platform of patient engagement solutions. That's Healthy Outcomes.
With solutions for the pre-visit, visit, and post-visit stages of the patient journey, Healthy Outcomes provides several pathways to satisfy each patient's preferences, effectively orchestrating engagement with all tools working in unison. Solutions on the Healthy Outcomes patient engagement platform include:
Patient Portal: A "healthcare hub" that organizes engagement activity in one place
Patient Schedule: Customized online scheduling solution for healthcare consumers
Patient Intake: Digitizes and automates patient registration and intake processes
Patient Notify: Automates appointment reminders and important announcements
Family Portal: Hub for family members to stay informed of their loved ones' health
Patient Survey: Automates surveys to measure patient satisfaction and outcomes
Patient Activate: Helps manage populations through intervention and outreach
Patient eVisit: A fully integrated, patient-friendly, virtual care experience with no downloads/apps required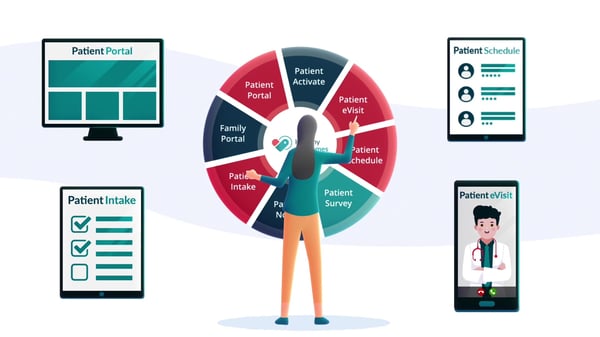 See Healthy Outcomes in Action
Seamless Product Configuration and Implementation
Each of the Healthy Outcomes solutions were designed to work together seamlessly, offering patients and practices a complete toolbox to maximize engagement. Because the setup is at the platform level, product configuration and implementation is simplified, eliminating the need to separately install and integrate each individual solution.
A unified platform significantly lightens the IT burden for your team. Plus, you can avoid investing in engagement products from multiple vendors, which can create a lack of continuity, inefficient practice workflows, and a poor, disjointed patient experience.
Superior Products Designed with Patient Needs in Mind
InteliChart has the dedication and expertise to provide the market's most comprehensive patient engagement platform. We're a leader in the space, delivering superior products that focus solely on patient engagement. Other vendors prioritize their EHR offerings, which means the priority of patient engagement may fall through the cracks.
Our solutions create new process efficiencies and simplify patient-related workflows for providers, all via solutions that are thoughtfully designed to engage and empower modern healthcare consumers. The end result is an ecosystem of patient engagement solutions with a user-friendly interface that's simple for patients, staff, and providers to use.
Commitment to Ongoing Product Research and Development
Amid ever-evolving healthcare technology and rising consumer expectations, patient engagement partners should be continually updating, enhancing, and evolving their product capabilities. This requires the vendor's strong commitment to product research and development (R&D).
The need is there, but the workforce, budget, and expertise often are not. Many EHR vendors fall short of the ability to keep up with the pace. At a minimum, patient engagement solutions should be updated once per year, but the strongest partners, like InteliChart, release upgrades several times per year. This ensures your solution has the features and functions that your practice, providers, and consumers need.
Achieve Healthy Outcomes with the Right Patient Engagement Platform
Engaging patients throughout every stage of the care journey begins here and now. If you're looking for an engagement partner to help your patients engage and take a more active role in their own healthcare, we can help. Get in touch to schedule a demo and learn more about what sets InteliChart and the Healthy Outcomes platform apart.