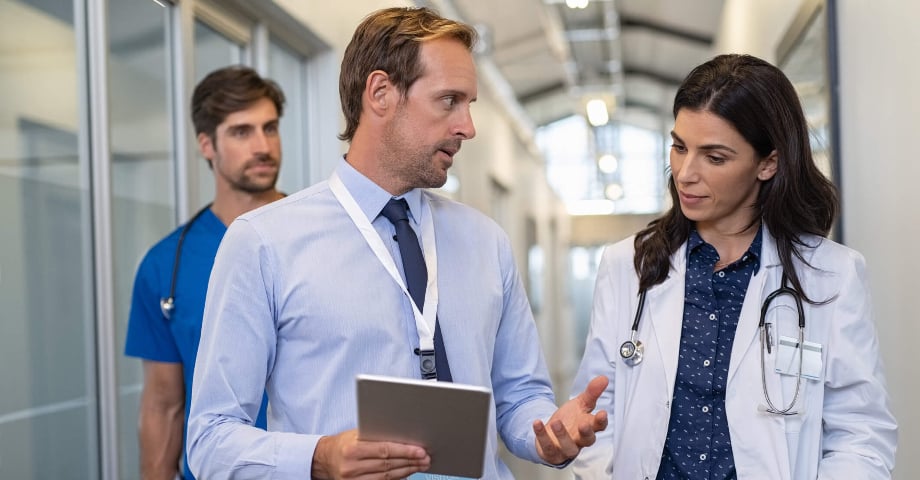 The healthcare industry is no stranger to change. From adopting new care-delivery and payment models to embracing modern technology and aligning with consumer expectations, it's clear that today's healthcare practices have their hands full.
The rise of value-based care, a healthcare payment model that aims to shift medical reimbursement from fee-for-service to fee-for-value, has introduced even more variables for providers and their practice workflows.
Value-based care is transforming healthcare as we know it and will no doubt continue to do so in the future. As an increasing number of healthcare practices and systems shift to value-based care initiatives, providers must determine how to best modify their workflows to focus on delivering top-quality care. But figuring out how to implement value-based care is tricky—especially for independent providers that may lack the resources needed to do so effectively.
If you're trying to figure out the best way to revamp your workflows for value-based care, you're far from alone. A number of healthcare leaders are still learning how to transition to value-based care from both a clinical and financial perspective. To help you get started, here are four steps that healthcare practices can take to prepare for (and adapt to) the value-based care transformation.
1. Introduce Additional Touch Points with Patients
Healthcare today looks vastly different from what it once was. To truly engage patients and deliver great care experiences, providers need to introduce additional touch points throughout the patient journey. That means sending pre-appointment reminders to minimize no-shows, as well as post-appointment communication to ensure patients follow their care plans.
By staying in communication with patients before, during, and after treatment, you can engage patients and inspire them to take ownership of their care and make healthy lifestyle choices. This translates to increased patient satisfaction, stronger patient-provider relationships, and better health outcomes—which ultimately contributes to value-based care success.
2. Send Surveys to Collect Patient-Reported Outcomes
Value-based care is all about quality over quantity; under the value-based model, providers are compensated based on quality performance as opposed to fee-for-service. Improving care quality is a complex undertaking, but patients remain the best source of information on functional status, quality of life, symptom management, treatment effectiveness, and more.
As such, patient-reported outcomes (PROs) are a critical component of assessing quality performance and achieving success in value-based care. Sending out surveys to collect PROs is a highly effective way for providers to gain helpful insights and act on opportunities to improve the patient experience.
3. Offer Self-Service Tools to Encourage Patient Engagement
Generally speaking, engaged patients are healthier patients. When patients are engaged in their own care, they're more likely to adhere to treatment plans, make healthy choices, and have better health outcomes. But engaging the modern healthcare consumer isn't easy—it requires providers to offer self-service tools to empower patients to be their own care advocates.
Access to digital tools is no longer a nice-to-have, but a necessity in today's healthcare landscape. Healthcare consumers both want and expect patient portal access that allows them to take a more active role in their care. That's why more than 90 percent of providers offer patient portal access with convenient features, such as appointment scheduling, two-way messaging, and flexible payment options.
4. Invest in Proactive Population Health Management
Population health management, or improving the health outcomes of a group of patients through care coordination and engagement, also plays an important role in value-based care. Sending targeted surveys to specific patient populations allows providers to proactively intervene and improve outcomes and satisfaction.
By guiding your patients between their office (or telehealth) visits, you can encourage healthy behavior, increase adherence, improve engagement, and realize a number of other benefits—and both your patients and your practice's value-based care initiatives will be all the better for it.
Simplifying Practice Workflows with the Help of Technology
Of course value-based care is a focus area for healthcare practices, but providers and staff members already have a lot on their plates. In a survey on value-based care trends, providers said a lack of resources—being short-staffed, having insufficient technology, and so on—was the biggest barrier to moving to value-based systems.
For many, adhering to new value-based policies and procedures will be difficult amidst all the other daily responsibilities—especially in the wake of all the changes brought on by the COVID-19 pandemic. And though electronic health record (EHR) solutions are evolving to better support value-based care programs, they're still not built with patient engagement in mind.
An all-in-one, orchestrated patient engagement tool can simplify new workflows by enabling several additional touch points, automating new processes, and helping providers and practice staff work more efficiently. Armed with an engagement platform that offers multiple methods for engaging, you can access everything you and your patients need in one solution—and start taking action to make the transition to value-based care.