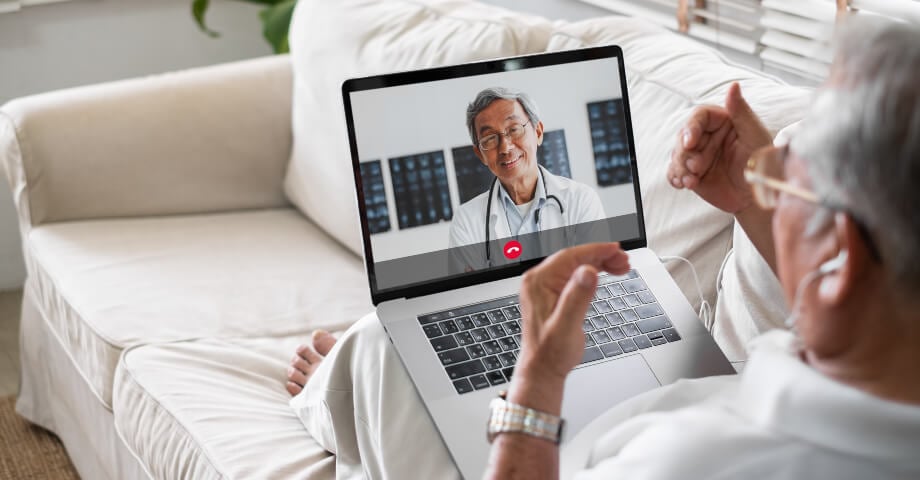 COVID-19 has completely changed the way of the world, introducing unprecedented challenges and equally novel solutions. One such example is telehealth, which has gained rapid momentum over the course of the pandemic. In fact, healthcare leaders are predicting that 20-30 percent of all medical care will be delivered digitally from now on, even after the global health crisis is finally a thing of the past.
Shifting from in-person to telehealth visits was an adjustment for nearly everyone from patients to providers, but the learning curve is the most significant for elderly adults, who are the least likely to be comfortable using new technology. Let's talk about how to increase telehealth use for your healthcare practice's elderly patients.
The Barriers to Telehealth Adoption
First, it's important to recognize the barriers to telehealth adoption. Why do some patient populations—especially the elderly—tend to steer clear of virtual care?
The primary answer is obvious: Older generations are often less tech-savvy than younger generations. They may shy away from these services because they find unfamiliar technology intimidating and are unsure of how to use telehealth.
Some elderly patients also struggle with embracing telehealth services due to limited technology and connectivity in their homes. For example, they may have an unstable internet connection or lack internet access completely. Additionally, older adults are also less likely to have a tablet, laptop, or desktop computer with a working web camera.
What's unfortunate about these obstacles is that elderly patients can greatly benefit from using telehealth services. Along with offering a safe alternative to leaving the house for an appointment during the pandemic, telehealth also provides greater access to care than in-person visits—especially for elderly patients, who typically see their doctors and care providers more frequently.
Scheduling virtual appointments reduces the burden and stress for caregivers, eliminates the need for travel, and is more convenient overall. Plus, because they improve access and make it easy to check in with patients more often, telehealth services can even cut down unnecessary hospital and emergency room (ER) visits.
4 Tips for Increasing Telehealth Use in Elderly Patients
Although the barriers to telehealth adoption may seem cumbersome and inevitable, you can still empower and enable your elderly patients with the right approach. To eliminate obstacles and increase telehealth adoption for elderly patients, you should take the following measures.
1. Encourage smartphone use.
Although elderly patients may lack the technology and inherent technical skills that are so familiar to younger generations, many today still have smartphones and are somewhat comfortable using them. If internet or computer access is limited or unavailable, consider encouraging older patients to use their smartphone for their telehealth appointments.
Most telehealth solutions on the market offer mobile-friendly access. Plus, with 4G and even 5G technologies available to us, internet connectivity doesn't have to be a barrier to convenient, low-risk, easily accessible care.
2. Provide step-by-step instructions.
Think about it: Even the most seemingly minor actions can be incredibly daunting and intimidating to less tech-savvy individuals. Providing clear instructions that walk through each step of the telehealth process will help ease nerves and reassure elderly patients that they'll be equipped to join the call without running into trouble.
Step-by-step instructions should be provided to patients in writing, as well as either over the phone or during an in-person visit. Always make sure to provide written instructions for elderly patients to use as a point of reference, regardless of whether you explain the process on a phone call or in the office.
3. Be considerate of their unique needs.
Elderly patients often have unique needs that don't impact younger generations. For example, telehealth appointments can prove difficult for patients who have trouble hearing or poor eyesight.
In cases like these, make sure you're considerate of your elderly patients' needs so you can accommodate them accordingly. Auditory and visual enhancements such as closed captions, larger texts, minimal background noise, and zero on-camera distractions from your end can all go a long way when it comes to not only increasing telehealth usage, but also improving the effectiveness of appointments.
4. Engage with them on a personal level.
Lastly, make it a point to engage with all your patients—especially the elderly ones—on a personal level during your telehealth visits. This will help to quell any concerns regarding the personal touch and bedside manner that many older adults may worry will be missing during a virtual visit. Taking a few moments to engage in casual chitchat (especially with the elderly patients you already have a strong relationship with) will reassure them that they're still receiving the same personalized, quality care they get when they come into your office for an appointment.
Despite all the uncertainties of the past year, one thing is for sure: Telehealth is here to stay. By following these tips, you can inspire your elderly patients to give it a try.